Nowadays our smartphones are all-rounders, they combine several gadgets in one and seem to master everything we need. However, every now and then even our omniscient personal assistants can use a little support themselves. There are several useful smartphone accessories on the market and I'd like to present you my personal top 5.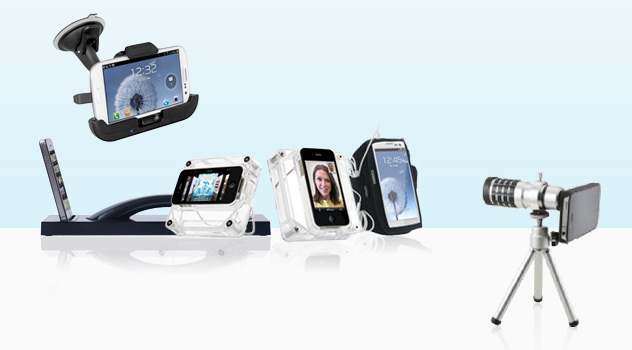 | | |
| --- | --- |
| | Although smartphone cameras are getting better, they just can't replace DSLRs or bridgecams. With Onchee's camera lenses you get at least a little professional feeling when pulling the tiny trigger on your mobile. You simply screw the lense into the opening over the camera and there you go. For the fun of it, there are several different kinds of lenses: fisheyes, wide angles and various telephoto lenses. They're all tiny and easy to carry with you. I think I could acquire a taste for it and leave my bridgecam at home every now and then. What about you? |
| | |
| --- | --- |
| | Car mounts for smartphones have become a basic must-have accessory, and rightly so. They bring our mobiles into their perfect position to navigate us and keep us from talking and texting while driving. If you've got a Bluetooth connection to your car stereo or a hands-free car kit, you can easily take and make calls without holding your phone. This handy gadget should really be found in every car. |
| | |
| --- | --- |
| | If you are an iPhone user, you might find this little smartphone accessory quite useful. This speaker works without wires or batteries. You just slip your iPhone into your AirCurve speaker and there you go. Due to its acoustic spiral the sound of your phone will be ten decibels louder.  An innovative, green and geeky little gadget! |
| | |
| --- | --- |
| | For all the sports(wo)men among us the gym running sport armband case is a must-have smartphone accessory. It just makes our exercise, gym and running hours so much more fun and convenient. Not only can I listen to my favorite tunes, but I can also use apps like runtastic while running. In combination with Nike's tracking sport kit you can really enjoy a great sport 2.0 experience. |
| | |
| --- | --- |
| | This award-winning device is – in most cases – unnecessary, but very stylish and great fun. And to be honest, having a phone call with the MM03i (by Native Union) is quite convenient and cosy. It comes with an integrated charger and is said to reduce radiation exposure. Although its name is not as innovative as the device itself, it is an eye-catcher in every home or office. |
These 5 devices are my personal 5 must have smartphone accessories. You might find some of them very helpful, others maybe just for fun. However, I'd like to know which accessory you couldn't live without or which one you tried and found unnecessary. Let me know in the comments.