Over the last decade we've seen impressive developments in mobile technology, with quad-core processors, 4G connection and high-resolution displays. However, it seems like battery development has been neglected. Nowadays our smartphones are superslim; there's simply not enough space for as big a battery as our mini-computers would need. That's why we have to find alternative ways to prolong battery lives of our mobiles. Some time ago I wrote about 5 eco-friendly ways to charge your smartphone, today I'd like to continue the discussion with 5 alternative ways to charge our smartphone on the go.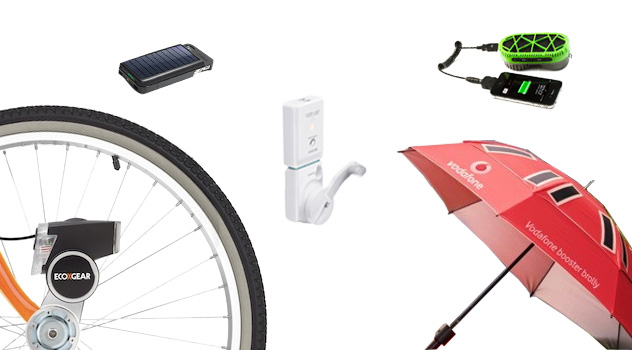 First of all, I'd like to introduce you to Vodafone's Booster Brolly. This umbrella is a great way to boost your signal and charge your smartphone when you live in a country where rain is a steady companion. If you ever come to Austria, I advise you to bring your Booster Brolly! Anyway, it works like this: Solar energy is gained through 12 solar cells and stored in a battery placed in the handle. You can then charge your phone via the USB port. It is said to charge a mobile within 3 hours. Sounds excellent to me!
---
If you are a dedicated cyclist and have a power-hungry mobile, this might be perfect for you – the ECOXPOWER charger for bicycles. It is a gadget that collects energy through your pedal power. With the gained energy it charges your phone as well as it lightens your way with a LED front headlight and taillight. A USB adapter cable that runs up to a water resistant phone case comes with it.
---
The Eton Solar Cover captures power from the sun and diffuse light. Ideally you use it as a cover of your iPhone constantly, so – theoretically – you don't have to charge your phone with a regular charger anymore. About 1 hour of solar charge with the Eton cover gives you 25 minutes of talk time or 20 minutes for internet use, 35 minutes of video playback or 145 minutes of audio playback.
---
Sony's hand-cranked charger works as you might already fear. You have to turn the crank in order to produce energy. Brilliant idea! It features a 4,000mAH battery, which is enough to fully charge your smartphone. Also, it's got 2 USB ports, so you can charge multiple devices. Just to give you an idea of how exhausting this is going to be for you: three minutes of cranking will give you more or less one minute of talktime. But, we would do anything for our mobiles and mother nature, wouldn't we?
---
This little gadget might be helpful for you, if you're a camping kind of guy/gal. The PowerTrekk is a smartphone charger that uses water to produce hydrogen gas. You simply pour water (can be water rainwater, river water, etc.) into the tray, the PowerTrekk mixes the water with sodium silicide to power the fuel cell. The fuel cell then provides power for about 10 hours of phone battery life.
---
We constantly stumble upon fascinating new ways to charge your smartphone. There are continuous developments and innovations worth trying and writing about. If you happen to know one, we haven't already mentioned, please let us know in the comments. Meanwhile: Happy alternatively charging!