We know you love to be able to manage your texts on any device. Imagine a feature that adds even more value to your synchronized conversations. We're very proud to announce our latest feature: mysms now also syncs your calls! That means we notify you on incoming and missed calls and enable you to start, mute or dismiss a call remotely from the tablet, desktop, the web or a second smartphone.
Having remote access to your phone's features can be very handy. As you know with mysms you are able to send and receive text messages from your tablet and desktop, like you're used to from your smartphone. With our latest update we provide you with the possibility to also manage your calls on any device. No matter which device you're using, you stay on top of both – all your text messages and calls.
Using the up-to-date versions of mysms, the app syncs your phone's call list to the cloud and notifies you on incoming and missed calls. When you receive a call, you can mute or reject directly on your computer or tablet. When you activate the option "Remote call" in the mysms settings on your Android phone, you can also start or answer a call from any device.
Please take in mind that even if you have remote control over your incoming and outgoing calls, you still need to make the call itself on your phone. That means if you pick up a call e.g. via the web app, it's only possible to answer the phone call using your smartphone or a headset which is connected to your phone.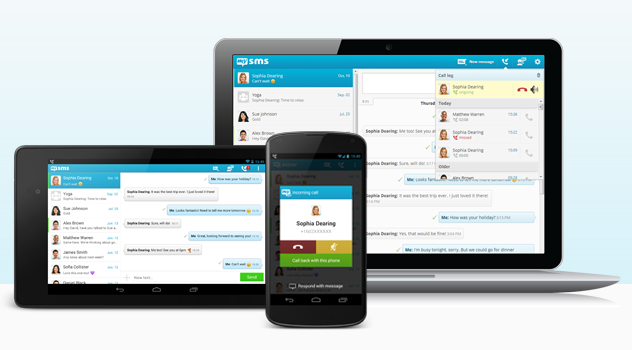 The feature is very useful especially for people who sit in front of the computer all day (using a Bluetooth headset) and also for the ones who use our mirror app. The call feature makes it obsolete to take two phones with you and allows you to handle messages and calls from one smartphone.
The call feature is available for Android phone, Android tablet, Windows 8, the web and mysms mirror for Android. The other supported platforms will follow soon.
Here you can access frequently asked questions. What do you think of this news?
————–
Additional information:
The integration of this feature requires the additional permission "Phone calls" on your Android phone (read phone status and identity, reroute outgoing calls). Of course we respect, if you do not want to make use of this feature. Disabling the option "Call log" in the mysms phone's settings removes all call log data from our servers.
Please note: Due to restrictions of the operating system, we cannot provide this feature to our iPhone users.